PCH
Goodbye PMH! Hello Perth Children's Hospital!

11 June 2018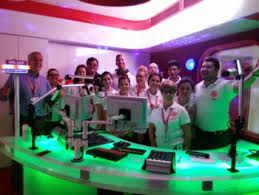 Historic curtain call for Radio Lollipop at PMH welcomes new era of fun at Perth Children's Hospital!
Radio Lollipop volunteers put to air their historic final live show at Princess Margaret Hospital there on Saturday 9 June 2018 after providing care, comfort, play and entertainment to the lives of tens of thousands of sick WA children since the service was launched over 33 years ago.
The milestone was a key step in launching the service at the new Perth Children's Hospital which opened its doors to patients for the first time on Sunday 10 June.
With a modern, sleek studio complete with dance floor, Radio Lollipop opens a new chapter in its history in Perth, continuing the service's role as a much-loved children's charity, deeply embedded in the WA community.
"We have been working with the new hospital project team since 2009 to set us up for many more happy years of bringing smiles to the faces of the children through the healing power of music and play," said Radio Lollipop Australia Director Kristi Clarke.
"But it was far from certain whether we could pull it off. Radio Lollipop could only continue to operate through the generous support of sponsors, and for this historic project we raised more than $380,000!"
"The cost of the new studio build and our broader PCH project costs have been covered by the Golden Ticket campaign which we ran for four years with our great sponsors Perth Arena, AEG Ogden and VenuesWest and the WA community. Every ticket sold in the popular raffle between 2012 and 2015 went directly towards helping fund this historic move.
"We were also very lucky to be the beneficiary of funding from Bright Blue Charity for Sick Kids, chaired by former Police Commissioner Karl O'Callaghan."
Ms Clarke said the new studio at PCH features a bespoke high-tech radio console which lights up and entices young patients who are well enough to visit from the wards to try their hands as DJs. And, for the first time in WA, Radio Lollipop will also be streaming a new music channel that is specifically programmed to cater for toddlers and pre-school children.
Ms Clarke said the new facilities would provide many opportunities to achieve more dynamic interaction and engagement with the children.
"It is very exciting. We can continue Radio Lollipop's legacy of support for thousands of WA families through providing much-needed breaks for parents and siblings who have to spend long periods in hospital with the most fragile patients undergoing extensive treatment programs.
"Through the power of imagination, music and play, we can transport the children from their bed to a world where they would like to be – one that has all of the current hits, bright lights, games, craft, prizes, jokes and serious FUN.
"And by embracing the latest technology at our exciting new facility at PCH, Radio Lollipop will be able to remain relevant and valuable for sick WA children when they need our help most, in the years to come."
Location: Perth