Uniform Free Day
Uniform Free Day is on 15 March 2023
Everything you need to know for Uniform Free Day 2023
Radio Lollipop volunteers provide a radio and play program on the wards at Perth Children's Hospital and across eight other hospitals in WA.
Every March for the last 28 years, thousands of bus drivers, Transperth staff, volunteers, businesses and schools join forces to raise money for Radio Lollipop. Uniform Free Day is our major annual fundraising event in Western Australia. Traditionally, collection tins are placed on buses and passengers are asked for a donation from drivers who have traded their uniform for costume. Collections are also done throughout the Perth CBD, at regional bus depots and at businesses and schools across the State.
During COVID-19, our wonderful service was able to continue despite lockdowns and state mandates. This is because our volunteer DJs can connect and interact with children from the studio straight to their wards and hospital televisions – providing play and entertainment from a safe social distance to vulnerable hospital environments.
We have suggestions below for your involvement in Uniform Free Day - even if you are working from home - as well as some downloadable resources here: Radio Lollipop Uniform Free Day 2023 Information Page
Funds raised from this year's event will keep our music on the air and broadcasting live to children around the State. It will assist with the costs of providing games, craft and supplies as well as covering some operational costs such as licensing and internet services.
Thank you for your continued support.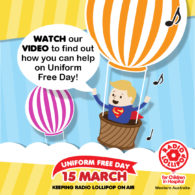 Watch our Uniform Free Day video!

9 March 2017
Please watch our video below to find out how you can help on Uniform Free Day! Kindly created by Run Mouse Run.com.au