Have Radio Lollipop At Your Hospital
Our vision is to reach every sick child, everywhere. We know that's a big ask, but with your involvement we can help make the sick children in your local hospital smile a lot more.
To get your own local Radio Lollipop you just need the support of your local hospital management, a willing core of Volunteers and the ability to raise funds to install a radio station, or receiving equipment to take a satellite feed from a nearby station. We will help you with all the rest.
To find out how to get the benefits of Radio Lollipop in your hospital please contact:
UK / INTERNATIONAL:
Hedley Finn MBE, Founder, Radio Lollipop UK
info@radiolollipop.org
AUSTRALIA / INTERNATIONAL:
Bruce Uhlhorn, Chairman, Radio Lollipop International Limited
info@radiolollipop.org
USA:
Debbie Prout, Radio Lollipop USA
info@radiolollipop.org
NEW ZEALAND:
Barrie Cooper, Radio Lollipop New Zealand
info@radiolollipop.org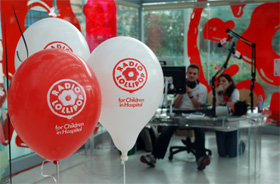 Lorem ipsum dolor sit amet, consetetur sadipscing elitr