NEWS
Our Inca Trail Crusaders Need Your Help!

15 July 2014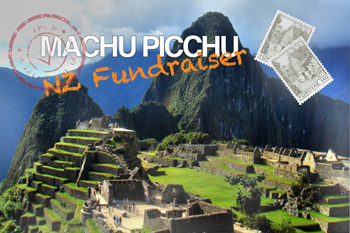 The team from Radio Lollipop NZ are determined to raise funds for their new world class studios at Starship Hospital with a fundraiser that takes them to the other side of the world.
Two Radio Lollipop NZ board members Lorraine Andrewes, Susy Bell, and three dedicated Radio Lollipop supporters are off on an adventure to Peru to conquer the trek to Machu Picchu. This endeavour will require the team to be up and running from 5am each morning over five days to make the gruelling trek. Considering most of the team have not seen exercise on the weekly basis for a considerable time it could have posed a problem or two… so,  a regime of early morning starts, walking to work and a demanding fitness a schedule has ensured the team are ready for action!
So far the 'self funded' challenge has seen all proceeds from this event go directly back to the Radio Lollipop cause. This includes all travel, accommodation and food costs for the journey. Any additional support from this adventure will also go directly to Radio Lollipop New Zealand to help with the construction, equipment, furniture and running costs of the new studio at Starship.
"I am fundraising to support Radio Lollipop – a very worthy cause that supports kids in hospital. It's a challenge but one I hope to complete even though I am secretly a wee bit scared. The kids in hospital face far greater challenges than this and often for longer periods of time," says Lorraine.
Lorraine's determination comes from a letter from a past parent who wrote about her son's experience with Radio Lollipop. She writes, "When I lived in Whangarei I would drive down to be with him on my days off. Often I had worked night shift and would be driving down after having a sleep.
He would send a text, "Where r u. We will b late 4 radio lollipop".
 He didn't want to be late as he wanted to see "those hot babes" or else they would have gone to the wards. Sometimes he could only stay a few minutes and then go back to bed. Other times he would try to get you to play his Scribe CD but it was banned as it contained coarse language. He was really excited to find an edited CD of Scribe in a music store. Of course I had to buy it!
He couldn't wait to turn 13 so he could go to the teen lounge and basked in the attention. He would always be disappointed if he was discharged before Thursday and would miss the teen lounge.
On the occasions when he was too sick to come downstairs he was delighted when the lollipop volunteers came to his room bringing games and a friendly smile. He would ask them if they had any pipe cleaners. I once asked him what he wanted pipe cleaners for. "Mind your own business"' he said. Then he would tell me to "make a flower." I couldn't twist the pipe cleaners into the shape of a flower so we would have to get help doing it. He wanted to make a flower for his favourite nurse.
On the anniversary of his death I took pipe cleaners into work and got my workmates to make flowers, which I put on his grave. I have wanted to write a letter to you at Radio Lollipop to say thanks for making such a difference in his life and giving him some excitement and joy during times when he was very sick and in lots of pain. I have been collecting lollipops to make a bouquet each year on the anniversary it was too hard and I was too sad to do it. On his 5th anniversary I took pipe cleaners into work again and my workmates made flowers for Radio Lollipop. I have now been able to celebrate Jacob's 21st birthday by making this bouquet of lollipops and flowers for you. I think he would approve."
The team travel from 1 – 16 September, 2014.
All funds raised will enable Radio Lollipop's Starship branch to connect and broadcast to other smaller branches in Whangarei, Waitakere, Kidz First and the SuperClinic where a full size studio is not viable.
Help us make the time kids spend in hospital just a little bit easier and be part of something special.
To make a donation please go to www.givealittle.co.nz/cause/togettothetop
Give a Little will automatically send you a receipt for your donation.
Thanks for your time
Location: Auckland, New Zealand