AustraliaAustraliaNEWSAustraliaAustralia
QCH
Radio Lollipop Day Australia 2018

3 October 2018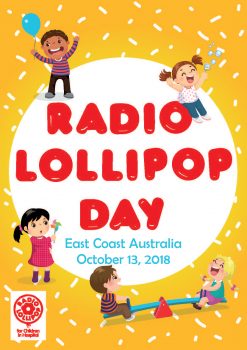 At Radio Lollipop, we might be the rocks stars of the hospital, recognised whenever we wander the wards, but on the streets, we're mostly incognito.
And that's about to change….
On Friday October 12 and Saturday October 13 Radio Lollipop will be out and about for this year's major public awareness/fund raising campaign on the East Coast of Australia.
Radio Lollipop Day is all about spreading the word about what we do…
Telling the public about our fun, friendly, fabulous volunteers who help to make children's wards a mini party at nights and weekends, when the rest of the hospital is really quiet.
Want to play a game? We're up for the challenge!
Feeling creative? We're the crafty types!
Want to Sing? Dance? DJ? Be a star in our studio!
If you want to experience our energy, enthusiasm and expertise, come and visit us at Chermside Shopping Centre in Brisbane, Arndale Shopping Centre near Logan and Oakleigh Central Shopping Centre in Clayton, Victoria on Saturday October 13, where we promise to make shopping fun!
To meet our larger than life Lollipop, look out for us on the streets of Brisbane's CBD on Friday October 12.
You'll also get a taste for what we do at fundraising lunches on the Gold Coast on Saturday October 13 and at Riverlife in Brisbane on Thursday October 18.
Don't worry if you're stuck in hospital, our volunteers have something special planned on Friday 12th October at the Gold Coast University Hospital and Saturday 13th October in Brisbane, Logan and Monash.
Like everything we do at Radio Lollipop, this fundraising/public awareness initiative is a team effort – a chance for us to show the outside world the magic we create in hospitals across the East Coast of Australia and beyond!
Location: QLD and VIC