Latest News
Generosity Served Up in Brisbane

3 November 2018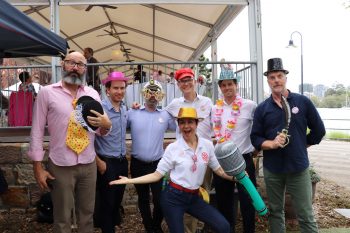 More than 100 people, with an appetite for helping children in hospital, joined Radio Lollipop for its inaugural Fundraising Lunch in Brisbane.
They came equipped with a sense of fun while still focused on the serious business of making life better for some of our youngest patients.
The Riverlife Function Centre proved the perfect setting for a relaxed get-together of charity minded people who were only too willing to dig deep for a good cause.
Just over $30,000 was raised on the day through auctions, raffles, ticket sales and donations to help keep Radio Lollipop on air and by the beds of children faced with the trauma of treatment and separation from family and friends.
Television Presenter Pat Welsh kept the crowd motived in his role of MC and Senior Seven Network Reporter Chris Reason entertained everyone with his behind the scenes stories of some of the world's most matched news events.
A dedicated group of volunteers went to great lengths to ensure the fundraiser would convey to guests the sense of fun and excitement that Radio Lollipop embodies.
And the message was received loud and clear with the level of laughter matching the amount of generosity shown by everyone involved.
Location: Brisbane