NEWS
A Colourful Celebration at Logan

19 February 2019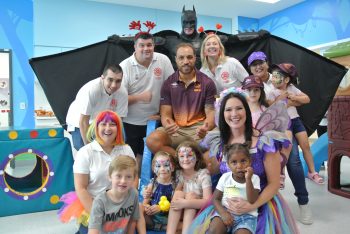 Life at Logan Hospital in South East Queensland has just got a whole lot more colourful for its youngest patients.
The playroom and teenagers' retreat in the Children's Inpatient Unit have been given a major makeover to help make time in hospital a little less traumatic for families.
Radio Lollipop co-ordinated the $8,000 facelift as part of its mission to provide care, comfort, play and entertainment to children in hospital.
"Sick and injured children have been shown to recover more quickly if they are less stressed, and shorter hospital stays benefit the community in general with less cost to the health system, " according to Bruce Uhlhorn, Chairman of Radio Lollipop International.
The makeover was possible due to the generosity of two community partners – the Brisbane Broncos Charity Fund, which provided the funding for the eye catching murals by Dan Drule, and the City of Logan Mayor's Charity Trust which donated the furniture, games systems and Ipads.
The rooms were officially opened by the Acting Logan Mayor Cherie Dalley on Saturday February 16 at a children's party hosted by our wonderful volunteers, and guests included Brisbane Bronco Sam Tagataese, Batman, Purpelina and many other colourful characters.
Location: Logan, Qld