Latest News
Radio Newcastle celebrate 37 Great Years

19 August 2019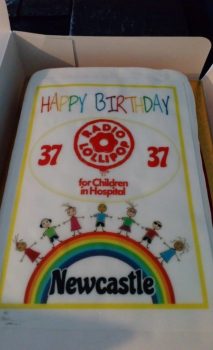 A long time ago in a hospital far, far away – well in Newcastle's Fleming Memorial
Hospital on 14th July 1982 – there began the first broadcast of the third Radio
Lollipop in the UK. Over the last 37 years every one of our volunteers has been
committed to providing care, comfort and play to the sick children of the North East
of England and sometimes from further afield.
Over the years we have moved "home" from the Fleming to the RVI and then into the
fantastic facility in the Great North Children's Hospital and adapted to the huge
changes that have taken place during that time. However, our original values have
stood us in good stead and when a volunteer can bring a smile to a poorly child and
their families it is worth its weight in gold.
To celebrate this marvellous occasion Radio Lollipop Newcastle volunteers gathered together with, patients, their families and staff to PARTY – something we are rather good at.  Apart from a magnificent cake there were party games, crafts, music dancing and fun all in the best Radio Lollipop tradition.
We look forward to the big FOUR O in 2022 and let the planning begin………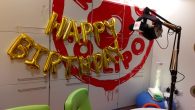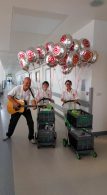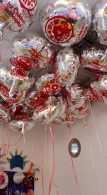 Location: Newcastle upon Tyne