UK
Radio Lollipop 80s Ball – One Week To Go!

27 September 2019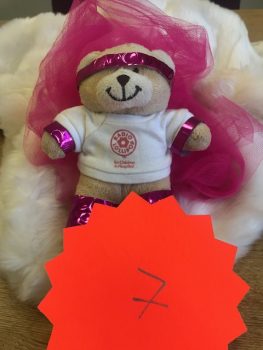 The Radio Lollipop 80s Ball takes place one week today in Edinburgh!
Hobble is ready with his 80s outfit to celebrate 30 years of the charity in Edinburgh on 4th October. The event is taking place at the Kimpton Charlotte Square Hotel and will feature a prize draw, auction and silent auction, as well as Lollipop-tastic 80s style entertainment.
'Miami Vice Special Event' supporter for the event is Thompson Gray. Managing Director, Stuart Gray explains why the company supports the charity:
"We have chosen to support Radio Lollipop in particular, year on year, as we know every penny of the funds raised is spent directly on helping the children and young people at the hospital. We are delighted to be involved once again in this year's fundraising ball for Radio Lollipop Edinburgh."
The dance floor is set for the ball thanks to the 'I Wanna Dance with Somebody' Entertainment Supporter, Forbo Flooring Systems. James Harrison, Regional Sales Manager, said of the partnership with Radio Lollipop:
"Our team really enjoy the Radio Lollipop Ball every year and we know that our support goes a long way as the charity is completely voluntary. It's a great night for all involved and we are so looking forward to the 1980s theme this year – we will all be on the dance floor, celebrating the work of Radio Lollipop."
The 'Into the Groove' Entertainment Supporter for the event, Will Rudd Davidson, a civil, structural and conservation engineering consultancy, was also born in the 1980s. Stuart Fleming, director, said:
"Wellbeing is one of our core values and our staff are our most valuable asset. We want to support Radio Lollipop as we understand the importance of smiles and enthusiasm – we admire all of the volunteers involved with the charity and the way they spend time with each and every child on the hospital wards. We're delighted to be a part of the 80s Ball this year."
Everyone in Edinburgh is looking forward to next week and the Radio Lollipop 80s Ball!
Location: Edinburgh