Starship
Moments Matter

16 September 2020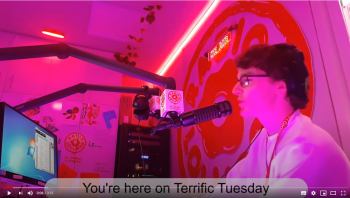 Hey my friend!!
It's been a while – here's hoping that you're well.
Campbell Mackenzie has been proudly supporting Radio Lollipop since 2009, when he was just 9 years old. Visiting our studio at Starship based in Auckland, NZ often, to perform for the children, Cam counted down the days till he could sign up to volunteer. His musical talent has certainly created some magical moments in our studio over the years.
It sure was good to collaborate with him and get our volunteers around the world involved creating a music video – Moments Matter!
Music, Lyrics and video created during lockdown, the song encapsulates the moments and stories that have kept Radio Lollipop running for over 40 years. It is also our message to the children i hospitals missing their regular visits and to you – to encourage you to help us continue to make "Moments Matter" for children in hospital.
"These trying times can be crazy and wild. Moments Matter. Staying home, we'll carry on the show. So get on up, sing and dance and tell some jokes. Moments Matter. When you're stuck inside and you wanna smile, just remember Moments matter"
Location: Auckland