Latest News
KCGM Awards Funds for Kalgoorlie Kids

7 January 2019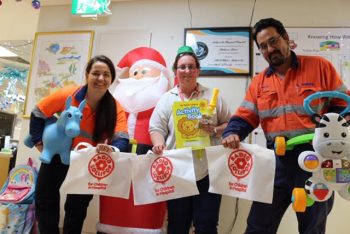 Children at Kalgoorlie Regional Hospital will enjoy the music of Radio Lollipop and new crafts and games thanks to a donation from Western Australian mining company KCGM.
The Kalgoorlie-based miner granted $4,000 to Radio Lollipop from its quarterly Safety Innovation Awards program. KCGM staff developed a new system to improve safety for staff during the repair of hydraulic machines. The winning team were awarded $12,000 to support three local charities, including Radio Lollipop.
"Our service in Kalgoorlie is highly valued by patients, families and hospital staff and our local volunteers are very committed to keeping the children entertained through the power of music and play," Charity Coordinator Melissa Sparta-Dawes said.
"These funds will help to cover costs associated with our music broadcast and stock our cupboards with toys, games and craft supplies."
The Radio Lollipop Kalgoorlie team is expected to welcome new volunteers in the coming months which will add more shifts to the weekly service.
KCGM General Manager Cecile Thaxter said the donations were a small thank you to charities such as Radio Lollipop who play an important role in the Kalgoorlie community.
Location: Kalgoorlie, Western Australia