Latest News
Australia's East Coast Dress Up is coming….

19 January 2019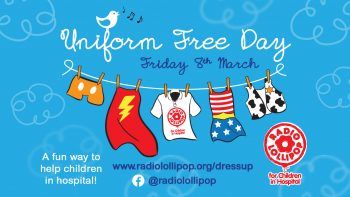 Want to have some fun while helping children in hospital?
Support our Uniform Free Day celebrations on Friday March 8 across the East Coast of Australia as we raise funds to help our wonderful team of volunteers provide care, comfort, play and entertainment to children in hospital.
Wear a costume or something crazy or colourful to work, school or sport for the cost of a gold coin donation.
Contact our East Coast Charity Support Officer for more information annie.gray@radiolollipop.org
Share the link www.radiolollipop.org/dressup and our Facebook page www.facebook.com/radiolollipop.
Use the form below to make a donation today.
Location: QLD, Victoria