UK
Radio Lollipop in Manchester wins £500 from wealth management firm

28 May 2019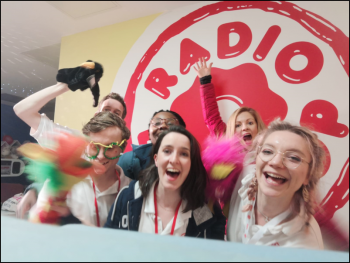 The Radio Lollipop team in Manchester has been awarded a £500 grant by Equilibrium Asset Management in the latest round of its Community Support Scheme donations.
Radio Lollipop aims to better the hospital stays of children through its play and broadcasting on the wards and has 25 dedicated volunteers who visit patients and interact with them.
Children can request their favourite songs, win prizes and hear their own voices on the radio.
The £500 grant from Equilibrium will enable Radio Lollipop to continue providing care, comfort, entertainment and play to young patients throughout the region. It will also mean that this service can be enhanced, as the money will be put towards resources such as colouring sheets, art materials, pencil crayons and other items which will help children in hospital to enjoy their stay.
Ashley Jones, volunteer at Radio Lollipop, said: "We're very grateful to Equilibrium Asset Management for their generous donation.
"This grant will allow us to further fund the resources and play materials we use to provide entertainment for children in hospital – something which is incredibly important for young patients who might suddenly find themselves away from their friends and/or families."
(story reproduced courtesy of Business Manchester and original author Philip Ghayour)
Location: Manchester