Uniform Free Day
Joining Forces Raises $70,000 For Radio Lollipop

1 June 2019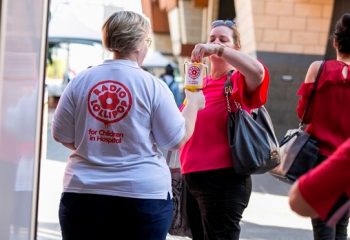 Western Australians have once again dug deep to raise $72,168.61 for Radio Lollipop as part of the annual Uniform Free Day event.
Supported by Transperth, the fundraising event is now in its 24th year of asking public transport passengers, businesses, schools and the broader community to donate their spare change, and help fund Radio Lollipop's unique brand of play and radio to kids in nine Western Australian hospitals.
"We simply couldn't do what we do without the generosity of the Western Australian community and Transperth," Charity Coordinator Melissa Sparta-Dawes said.
"Uniform Free Day is an amazing event – one we are so very proud of and that gives so much reward to our volunteers through the many stories and memories shared on the day."
"It is one of the best days of the year as our volunteers get to meet some of the children and parents we have engaged with, hear people recall a favourite song we played for them, a game they won – or lost! – or a story of how we helped them through a difficult time."
For Public Transport Authority Managing Director, Mark Burgess, Uniform Free Day is a great reminder of the generosity of public transport passengers.
"Our passengers are a very generous bunch and they always dig deep for Radio Lollipop Uniform Free Day, with any contribution helping to make a big difference." Mr Burgess said.
"Our bus and train drivers and other staff also played a big part, hanging up their uniforms for the day and donning their zaniest costumes to raise money for sick kids in WA hospitals."
Funds from this year's event will keep the music on the air, provide craft, games, toys and other delights and also allow us to gift back to the hospitals we work in.
Location: Western Australia