Latest News
Radio Lollipop Newcastle's Easter Bake Off April 2021

19 April 2021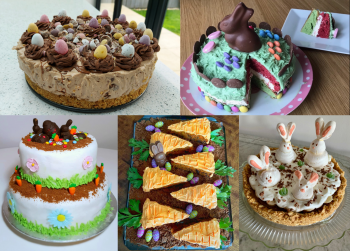 Radio Lollipop Newcastle raised over £200 thanks to our volunteers and supporters who baked some magnificent cakes for our Easter Bake Off fundraiser!  All funds raised will be put towards Radio Lollipop activity packs and goodie bags that we are giving out to the children at the Great North Children's Hospital, RVI, whilst we are unable to run our ward rounds during the COVID-19 pandemic.
A huge thank you to our judge John Whaite, winner of the Great British Bake Off for very kindly judging our competition.
Have a look at the selected 'top 5' winners below (in no particular order), alongside John's comments:
Isaac's Mini Egg Cheesecake: This looks extremely tempting. And the finish is so neat and festive.
Bunny in the Garden: This looks really tasty. I love the finish and it definitely makes me want to eat at least 5 slices (is that about half the cake?)
Easter themed Birthday Cake: This is really impressive.
Easter Carrot [Cake] Patch: These look so delicious. Carrot cake is one of my absolute favourites, and I love what this person has done to make them more fun and interesting.
Bunny-offee Pie: This is so much fun. I love the meringue bunnies!
Huge congratulations to all of our Bake Off winners and to all of the contestants for the amazing baking!
Location: Newcastle