Latest News
Radio Lollipop Newcastle celebrates June in Space

19 June 2021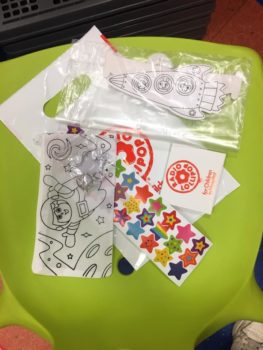 During the Coronavirus Pandemic Radio Lollipop Newcastle have been unable to provide our normal ward rounds and radio programmes and we are working very hard with the GNCH to return at the earliest and safest opportunity.  
However, it doesn't mean we haven't been busy!!!!  Once we received the go-ahead a small group of Radio Lollipop volunteers set up a group who now meet once a month to decide on a theme and produce our famous goodie bags which are given to the wards so they can give them out on our behalf.
This months'  theme is Space and our lovely team have produced 120 bags – 60 for under 6's and 60 for over 6's alongside a top up of our new sensory bags so there is something for patients of all ages and abilities – even our tiny tots.
We look forward to coming back on to the wards and can't wait to give out our goodie bags and visit our patients very soon.!!!!!! 
Location: Newcastle