UK
Radio Lollipop Team Bristol's Tour of Broadmead – Monday 2nd August

2 August 2021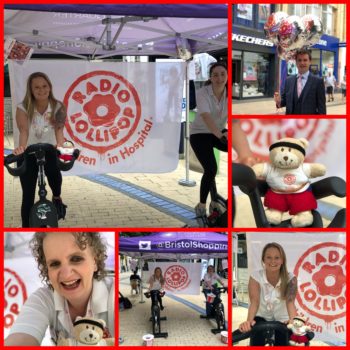 The Bristol Team took part in this year's Tour of Broadmead.
The Tour of Broadmead is an 8 day 8 charities static cycle challenge taking place in the Broadmead shopping district of Bristol and is inspired by the Tour of Britain, organised by #BroadmeadBID and supported by Pure Gym at Union Gate and The Galleries Bristol.
Volunteers from the Bristol Team and supporters cycled away from 11am to 3pm to replicate Stage Three of the Tour of Britain, which will see riders cycle between Llandeilo and the National Botanic Garden of Wales, a time trial of over 27.5km.  It's a difficult one to replicate so the team tried their best to rack up as many kilometres as possible!
Thank you to everyone who came out to support us and talk to us and for your kind donations.
There's still time left to donate via our Justgiving page and all donations are very welcome!
www.justgiving.com/campaign/TourofBroadmead
All monies raised will go towards supporting the team, based at Bristol Royal Hospital for Children to purchase arts and crafts materials, activity packs, games, toys, books, sensory equipment and studio equipment and to help the team to continue to provide smiles and laughter to children and their families at the hospital.
Thank you.
Location: Bristol