Starship
Making Christmas Unstoppable for Children in Hospital

15 January 2022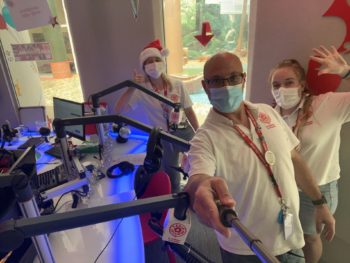 After a few months of being locked down in Auckland, New Zealand, due to COVID, Radio Lollipop Starship were determined to bring some Christmas magic to the wards at Starship Hospital. We were lucky enough to begin working in collaboration with Starship Foundation, and with six weeks of planning, weekly meetings and some gutsy determination, we were able to bring a 6-hour Christmas special to life.
We covered all our bases with a plan A, B and C. We considered a pre-recorded show or broadcasting offsite, but in the end, we were fortunate enough to be granted special access to our own bubble, aka Radio Lollipop studio.
The day itself was as magical as we had imagined, with three socially distanced, mask wearing presenters in the studio. We had some amazing celebrities call in, including the amazing Lorde, Walter Neilands, Ben Barrington and of course Santa. There were stories, songs and Christmas wishes from New Zealand stars as well as a whole bunch of music, quizzes and stories.
Kids from all over Starship tuned in, as well as our Auckland Satellites (even our Super Clinic), we even had a few text messages into the studio with questions and stories! We were fortunate enough to be able to soft launch the Listen App for the kids, meaning they could listen from their own devices – special thanks to George for making it happen!
There was energy, excitement and a whole lot of laughing from the studio on the day. We couldn't have made it happen without our incredible team, including those over at Starship Foundation and the incredible presenters who helped bring it all to life!
It was the best Christmas gift ever – being back in the Radio Lollipop studio at Starship, delivering this Christmas show to some of the most deserving kids we know.
Story Credit: Maddy Geroge, Program Controller, Radio Lollipop Starship.
Location: Auckland, New Zealand