AustraliaNEWSAustraliaAustraliaAustraliaNEWSAustraliaAustraliaAustraliaAustraliaAustralia
Uniform Free Day
Radio Lollipop Uniform Free Day | Wednesday, 16 March 2022

13 February 2022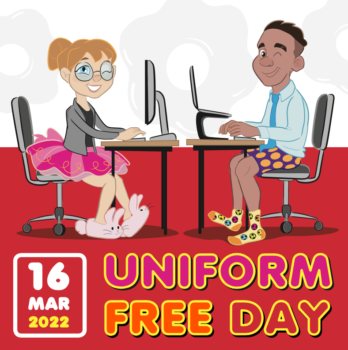 UNIFORM FREE DAY IS BACK FOR 2022!
On this day, Transperth staff, volunteers, businesses and schools join forces to raise money for Radio Lollipop.
Uniform Free Day is our major annual fundraising event in Western Australia and funds go to continuing our charities volunteer 's radio and play program for children in hospitals across Western Australia. We would love your support again. See how you can be involved and enjoy some downloadable resources below.
---
HOW CAN YOU BE INVOLVED?

DONATE ON PUBLIC TRANSPORT AND IN THE CBD
Spare some change and donate when you board the bus, train, ferry or CAT bus. Volunteers in the CBD will have TAP & GO card facilities
WORKPLACES & SCHOOLS
Dress up or dress casual for a donation and hold a Uniform Free Day (on March 16 or another date) at your workplace, home office, sporting club or school.
WORKING FROM HOME
Put on your zoomiform! Attend your virtual meeting Uniform Free – they won't need to know from the waist down you are wearing pyjama bottoms and crazy socks! You can donate anytime online from your home computer. Use our Uniform Free Day Virtual Background for your online appearance on the day to help us create awareness!
HOST A UNIFORM FREE NIGHT AT HOME
Host a costume party for family and friends at home and raise funds for Radio Lollipop. Theme up your party in Radio Lollipop style – themes can be music or lollipops (a candy bar would be fun). We have a QR Code donation poster for you to print and for your guests to scan and donate on the night.
---
DOWNLOADS & MATERIALS
Online Meeting Virtual Background (jpg)
Location: Western Australia