New Zealand
All Aboard the Lolli-Trolli

31 March 2022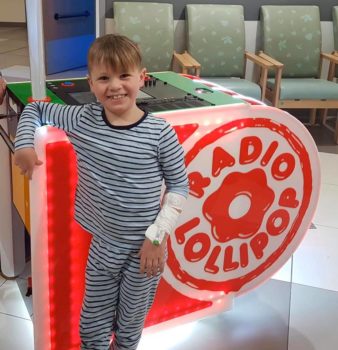 Radio Lollipop NZ embarked on its first ever crowdfunding journey on Friday 1st April with help from our friends at The Funding Network and Givealittle!
We are asking for New Zealanders to help us raise funds to relocate our existing studio at Starship to a smaller space. Helping us create the world's smallest, portable Radio Lollipop Studio – ever!
A Lolli-Trolli will allow our volunteers to take our studio to a child's hospital bedside – where it's needed the most. 
Because not all children can visit the studio and due to the significant rebuild in the atrium at Starship, for the important work of the PICU department, a Lolli-Trolli plays a vital part in continuing to elevate and engage vulnerable kiwi kids in hospital, for many years to come. 
Taking the UK by storm (photo kindly shared by Radio Lollipop Glasgow), Lolli-Trolli's are beyond our wildest imaginations, allowing the magic of bubbles, ceiling discos, and karaoke, delivered straight to the bedsides of children in hospital – where it's needed the most. 
It's going to be a wild and exciting ride and we are calling "All Aboard", we'd love for you to join us. Follow us on Socials @radiolollipopnz for updates on our journey, starting out on 1st April 2022. 
Each unit costs $20,000 – some serious cash, for some serious fun. Together with your help, we can create some of the best bits of a child's time in hospital. 
Donate here: https://givealittle.co.nz/
Thank you so much for your support! 
Location: Auckland, New Zealand