Latest News
Success at the Footy

27 April 2022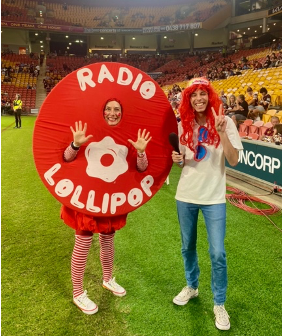 On Friday the 22nd of April, Queensland Radio Lollipop Volunteers were raising money at Suncorp Stadium in collaboration with the 50/50 Charity Raffle, an opportunity granted to us by the Brisbane Broncos NRL team.
50/50 Charity Raffle is a not-for-profit project created by the 50/50 Foundation that partners with sporting teams to give charities the opportunity to fundraise at sporting events. Money is raised by selling raffle tickets, with a significantly large portion of the prize pool going towards the partnered charity, us!
Thanks to our eight Radio Lollipop volunteers and thirteen 50/50 Charity Raffle volunteers, we were able to take home $8,300.30! A special thank-you to our very own Radio Lollipop volunteer, Micaela Oost, our Sales Sorcerer of the night, generating over $1,100 for the prize pool.
This money raised will be used for purchasing more welcome pack contents and craft materials so we can continue to improve our services in Queensland hospitals and give the best care, comfort, play, and entertainment to the children.
As we know, knowledge can be just as important as money. Not only did our volunteers succeed in raising a ton of money, but they also got to raise awareness about who we are and what we do!
As 23,243 people poured through the gates of Suncorp Stadium, two incredible volunteers, Mathew MacDonald and Ceara McManus, ran onto the field, donned in their Radio Lollipop getup and spoke to the crowd about Radio Lollipop and all the work we do with kids in our hospitals.
Thank you to everyone involved in this special night, the Broncos, and the 50/50 Charity Raffle for giving us this opportunity!
Location: Gold Coast, Australia