Latest News
Super Stocklands & Bodacious Badges

19 August 2022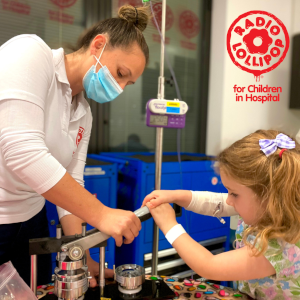 Alluring arts and curious crafts at Radio Lollipop Gold Coast will never be the same again. Thanks to our friends at Stocklands, Radio Lollipop was the lucky recipient of not one but TWO $1,000 Stocklands Care Grants!
The graciously granted grants have elevated our creative offerings to the next level. The money allowed us to purchase a brand new bedazzling badge maker and restock our wondrous welcome pack supplies!
The badge maker has been an instant hit in the playroom. Our little friends (such as Lukah, pictured) have a blast creating badges for themselves, friends, family, and even favourite nurses! Some of the best badges we have seen included a Tornado Sonic, Harry Potter fan art, and old classic name badges.
Thank you again, Stocklands Burleigh Heads and Hope Island, for your generous support.
Location: Gold Coast, Australia