Latest News
End of Year Jamboree!

7 November 2022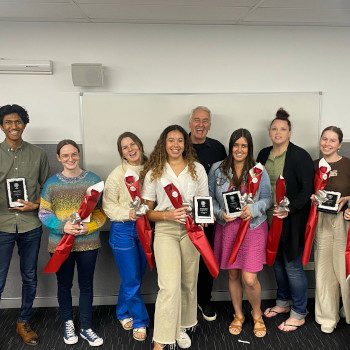 On Sunday, the 23rd of October, the Gold Coast held its last official social get-together for 2022. Lollipoppers lounging around Southport Community Centre provided the perfect, perfect, perfect, opportunity to acknowledge and celebrate some extraordinary people.
The afternoon began with fabulous food and groovy games, followed by a presentation by Radio Lollipop founder Hedley Finn OBE. Hedley spoke about the organisation's humble origins, the impact of imagination, and he left us with a touching story from a patient who interacted with our service.
After being thoroughly inspired by Hedley's anecdotes, the station powered into its inaugural volunteer awards for 2022. Please join us in celebrating the following extraordinary volunteers:
DJ of the Year – Rowdy Rishy 🤠
Fundraiser of the Year – Princess Paige 👸
Rookie Volunteer of the Year – Fairy Neeshy 🧚
Volunteer of the Year – Mermaid Miza 🧜‍♀️
Each winner and the two finalists for each category received beautiful roses donated by Bloom on Hope Island.
Thank you, everyone, for volunteering to provide care, comfort, play, and entertainment to children and their families in the hospital. See you all again at our 2023 ceremony!
Location: Gold Coast, Australia