Latest News
Laudatory LolliTrolley Launch!

28 October 2022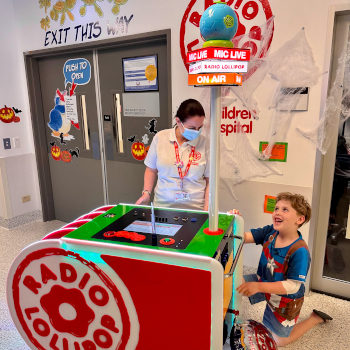 The latest innovation in play technology has landed at the Gold Coast University Hospital!
On Monday, the 24th of October, the Gold Coast launched a Radio Lollipop LolliTrolley! The trolley turns any room into a complete Radio Lollipop studio experience! The trolley has everything you could want to kickstart a play interaction and transform the atmosphere of a room. Equipped with laudatory lights and lasers, a beautiful bubble machine and balloon pump, substantial speakers, magical microphones, and finished off with a luscious Lollipop logo – it genuinely is game-changing!
The trolley is the third in the world and the first outside the UK. To make the launch even more momentous, our founder and trolley designer, Hedley Finn OBE, travelled from the UK to join us for the launch!
It hasn't even been 'live' (radio joke) for a week, but it has entirely transformed our service delivery. We can't wait to continue creating laughs and smiles for the children of the Gold Coast University Hospital with our new toy!
A Heartfelt thanks to Madison and Andrew for giving up their weekend to get the trolley ready and raring to go! Similarly, thank you, Tani, for securing the grant that made the trolley a reality and the Southport Rotary Club for donating the money to buy the battery.
Location: Gold Coast, Australia