New Zealand
The Healing Power of Play

9 January 2023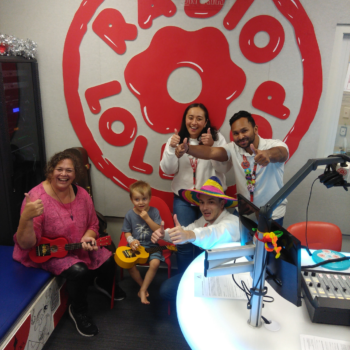 We asked Daniel, Auckland New Zealand volunteer to share why volunteering is important to him. Daniel is one of our incredible volunteers who visits children in hospital one night a week to bring smiles to children when they need it the most. At the end of each night, he knows it's not just the children who receive the smiles always with one on his own face as well.
"Helping people makes me feel good," says Daniel. "I'm definitely a much happier person because of Radio Lollipop. The simplicity of play impacts the child, their family and even us as volunteers."
Daniel shares his wow moment: One evening we were volunteering in the Starship Atrium when a timid boy, who'd only recently started suffering from seizures, and his dad came over. We spent time playing with the boy, got him on the radio and helped him out of his shell – it was very rewarding. Whilst watching his son on the radio his dad got chatting to me, stating that he hadn't seen his son this happy since the seizures started happening. That was my WOW moment for that evening. One year later I was at an event where the same boy and his dad starred in a Radio Lollipop promotional video, the transformation and words of gratitude were overwhelming. It made me really happy to know that I'd had a positive effect on the boy and his dad.
Radio Lollipop New Zealand is currently looking for volunteers in the Central, West and South Auckland area. We currently operate at Starship Children's Hospital, Rangatira Ward Waitakere Hospital or Kidz First Middlemore Hospital. You will be required to attend an Information Evening to hear more about our service, so you can make the decision if you would like to apply for a position on our team.
Each volunteer visits one evening a week, taking arts, crafts, games to children in hospital and helping to create the kind of environment our kids need to heal and recover. 
Our volunteers come from all walks of life, there is no need for medical or radio experience – you just need to bring your own unique sense of child-led fun! 
If this sounds like something you'd be interested in, follow this link here to sign up! 
Location: Auckland, New Zealand