Latest News
Charming Christmas Collection @ the GC

2 January 2023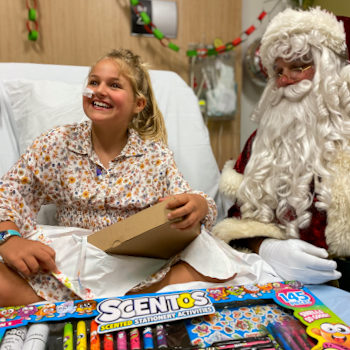 As has become a yearly tradition, Radio Lollipop Gold Coast once again brought Christmas festivities to the children of the Gold Coast University Hospital. Throughout our 'Seven Days of Giving', our volunteers gifted over 160 presents and even organised a visit from the man of the month himself – Santa Claus!
With over 600 items donated, we are overwhelmed and so grateful for the outpouring of support from the local community. Our prize cupboard is certainly ready for a prosperous and plentiful 2023!
Finally, we want to say a heartfelt thank you to Coastal Babysitters, FreddyMatch, Hide and Seek Markets, Macro Gym, Phresh Ink, Rotary: Broadbeach, Sky Tree Kids Early Learning Centre, and the University of Queensland's Human Resources division for their festive support!
Location: Gold Coast, Australia