Uniform Free Day
Uniform Free Day is on 14 March 2018
Uniform Free Day is a major event that funds Radio Lollipop in Australia. The generosity of Australian's on this day enables our volunteers to provide care, comfort, play and entertainment to children in hospital. Radio Lollipop's radio broadcasting service operates live each night from the hospital-based studios and is streamed to satellite hospitals throughout the state. The radio is programmed around the requests of the children, who are encouraged to participate in activities, competitions and lots of games. "Lollipop" stands for "Lots of Love and Laughter in Place of Pain"
WESTERN AUSTRALIA
Uniform Free Day has been a longstanding and established event in Western Australia. Transperth has been generously supporting Radio Lollipop and Uniform Free Day for over 20 years (since 1995) with all funds collected from the annual day going directly to Radio Lollipop.
BRISBANE, GOLD COAST & MELBOURNE
2018 marks the year that Radio Lollipop in Brisbane, Gold Coast and Melbourne conducts their first Uniform Free Day. All funds collected from workplaces and schools hosting dress-up and casual dress days go directly to Radio Lollipop.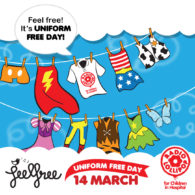 Feel Free to be Uniform Free!

2 March 2018
Transperth's annual Uniform Free Day is on again on Wednesday 14 March to raise funds for Radio Lollipop. Now in its 23rd year, the event provides much needed funding for the Western Australian teams to keep the radio on air and our …
Read More
Location: Perth, Brisbane, Melbourne, Gold Coast