AustraliaNEWSAustraliaAustraliaAustraliaNEWSAustraliaAustraliaAustraliaAustraliaAustralia
Uniform Free Day
Radio Lollipop Uniform Free Day – Wednesday, 17th March 2021

19 February 2021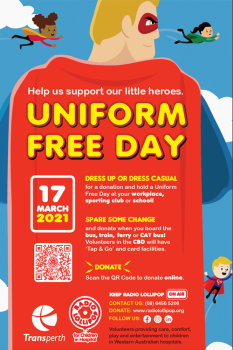 Wednesday the 17th of March is the 26th annual Uniform Free Day in support of Radio Lollipop!
For more than two decades West Australians have been giving generously to bring smiles to the faces of sick children across WA. Your contribution can make a big difference so please dig deep.
Radio Lollipop needs your support so volunteers can provide a radio and play program on the wards of Perth Children's Hospital and eight other hospitals across WA.
Join Radio Lollipop on Wednesday the 17th March and donate to Uniform Free Day.
Location: Western Australia