Latest News
From the car park to the Penthouse

2 March 2021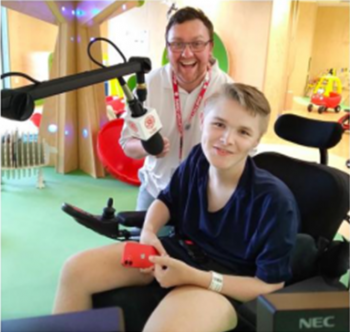 One of the groups most excited about the opening of Waipapa, is the Radio Lollipop team and, in particular its Christchurch Chairperson Nicky Horne.
Every Monday to Thursday for the past seven years, the Radio Lollipop Team has parked a purpose-built campervan outside Christchurch Hospital in order to broadcast a live radio show to the patients in the children's ward. 
"I'm not upset to say goodbye to the van, especially the trip down Lincoln Road in peak traffic" Nicky says.
Now, Radio Lollipop is broadcasting from a stunning radio studio, located in the Matariki Hub, in the new children's ward on the seventh floor at Waipapa.
"When we were broadcasting from the van we weren't able to engage with the patients and families in the same way we can now, we will be right there with them" Nicky says.
The live radio show will broadcast four nights a week and children will be able to interact with the radio hosts in the studio or listen from their rooms, with the broadcast accessible via in-room televisions and or accessing a weblink on their own device.
The live radio show is the biggest toy in the toy box, but it's not the only tool Radio Lollipop uses to brighten the lives of child patients and their families. Pairs of volunteers who now number around 60, visit the children's wards each Wednesday between 6pm and 8pm each Wednesday, taking with them games and craft activities to entertain the young patients and their siblings.
Radio Lollipop was first launched in England in 1979, with the aim of providing smiles and laughter to children at a time when they need it most. 
In New Zealand, there are two Lollipop studios, in Auckland and Christchurch, with satellite stations in Waitakere Hospital and Whangarei Hospital. Christchurch volunteers also visit Ronald McDonald House.
Nicky is full of admiration for her volunteers, their commitment and the sense of fun and energy they bring each week to brighten the lives of the children and their families.
Story Re-Printed with Permission. As published in CDHB CEO Update. Jendy Harper, Canterbury District Health Board, CEO.  
Location: Christchurch, New Zealand